Are you looking for the perfect baby shower candles?
A candle's light symbolizes hope and happiness. Everyone at your baby shower is hopeful for the baby's good health and they are all happy that the baby will be arriving soon.
And because of their great significance, candles for baby showers are available in different colors, designs, shapes and sizes.
Here are some great baby shower candle ideas:
Baby Bottle-Shaped Candle
How about a candle in a glass with a baby bottle nipple topper? The wick of the candle protrudes from the tip of the nipple so you can light it from there.
The candle wax is white which looks like milk formula.
The bottle could be pink or blue depending on the gender of the baby. But there are also other colors too like yellow, green and violet for parents who are unaware of their baby's gender or just don't want to reveal it just yet.
Other Shaped Candles
Other creative baby shower candles are in different shapes and figures. Candle wax is versatile and is easy to form. So you could get candles in many different shapes, such as:
a baby shoe candle
building blocks candle
baby cradle candle
duckling candle
flower candle
bear candle
You may even make your own candle by using wax molds that you can buy from DIY stores and craft stores.
There are so many ingenious and creative designs you can try which will make a perfect candle for this memorable event.
Personalized Aromatic Candles
How about a personalized aromatic candle? These candles don't just smell great, but they look lovely too!
Usually available in small tin cans just like a lip balm cab, these candles are made from wax plus aromatic oils.
You may find candles smelling like lemon, cinnamon, chocolate, mint and flowery scents such as rose.
There are also fruity smells which are perfect for making any room smell tutti fruity!
You may even give them as keepsakes for your party by sticking on thank you notes to the top or along the sides of the tin.
Even More Ideas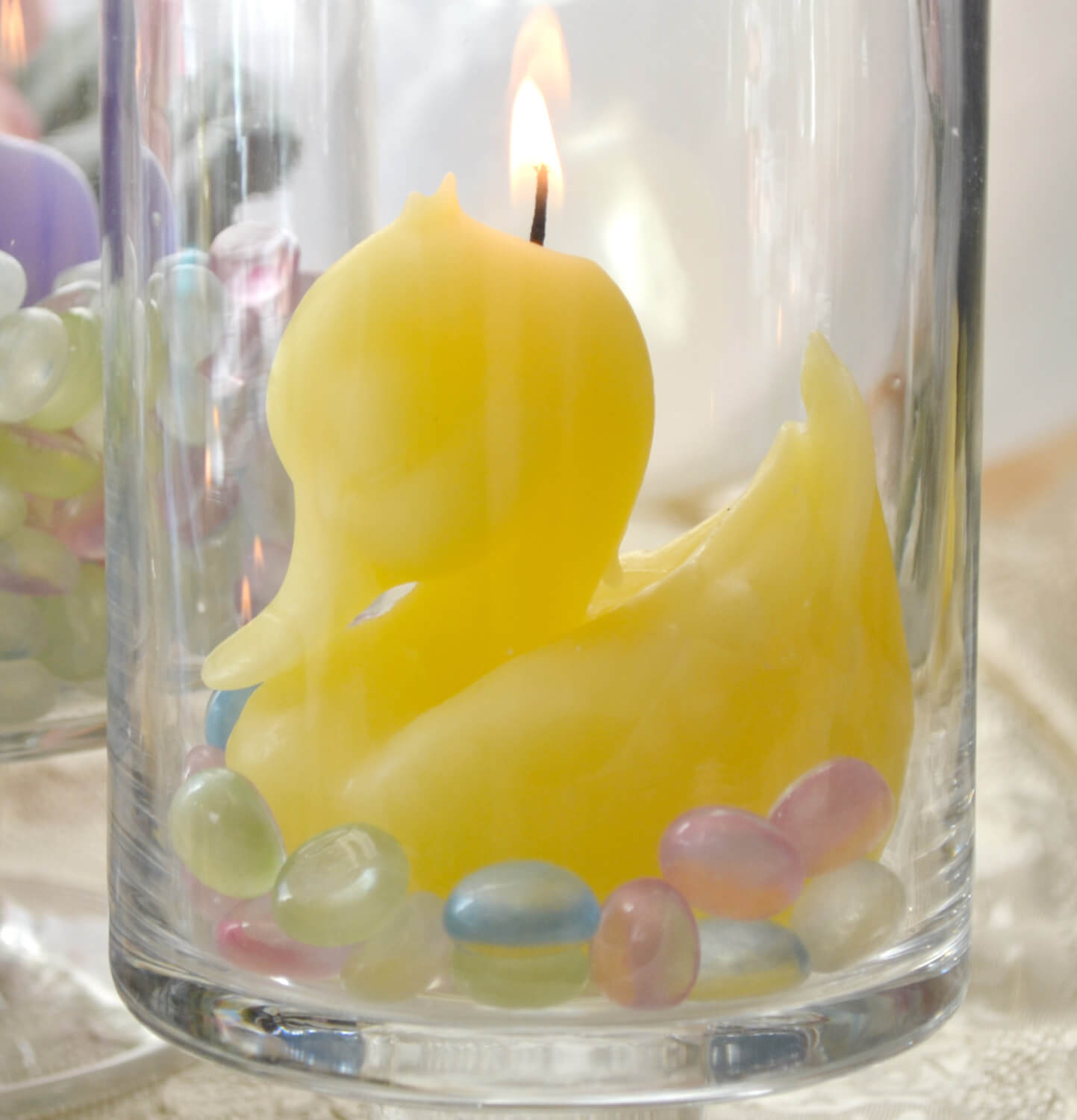 Some of the most interesting and creative designs for baby shower candles are:
candles shaped like cupcakes,
baseballs,
penguins,
Noah's ark,
different kinds of animals such as hedgehogs, insects and birds.
You can pre-order specialty custom candles. Just be sure to do so well in advance of your shower.