Baby shower lollipops are fun, creative and great ideas to be used as favors for your event.
Lollipops are available in different shapes, sizes, colors and therefore you will surely find one that will suit your theme. There are a lot of great lollipop keepsake ideas for your baby shower, here are some of the most popular:
Teddy Bear Lollipop
A popular lollipop design for baby showers is a teddy bear which would be mostly made of chocolate for that brown bear look. There are several variations for a teddy bear lollipop including ones that feature only teddy's head, a lolliepop with a teddy bear's entire body, teddy bears in different action poses, and teddy bear silhouettes.
You can find a huge number of great teddy bear lollipop ideas or make your own designs. There are also many teddy bear lollipop molds which are available in baking supply shops.
Pink Lollipops
Baby girls are amazing and so baby girl themes could make great lollipop favors. Some popular ideas are pink colored booties, pink onesies, pink bonnets, and pink angels. Again, there are specific molds for making these.
And if you have a background in baking or decorating, you can put your great talents to use by creating and decorating your own baby shower lollipops.
Animal Head Lollipops
Animal heads can also make great lollipops. Bring out your own baking and craft supplies to make your keepsakes stand out. Cartoonish animal heads of chicks, chickens, ducks, and cats make excellent lollipop themes.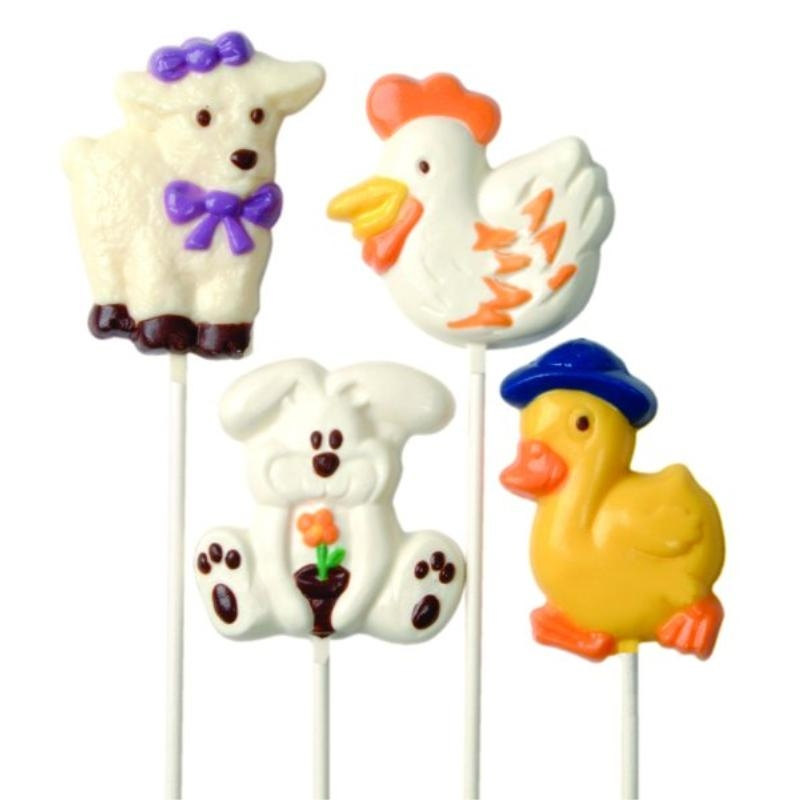 Usually, these lollipops are professionally created and are also pre-ordered. If you wish to use these extra special lollipops, you should have a professional baker or designer help you out.
For Kids
Lollipops make great favors for kids that may attend your event. Lollipops for kids should be created carefully. Be careful of what materials and ingredients you use since some children have allergies. You simply have to stay away from harmful oils and dyes when creating your lollipops.
Lollipop Flavors
Flavors can also make or break your lollipops. For instance, you could use chocolate because it's extremely popular and chocolates are very easy to melt, mold and eat.
Kids love chocolate. You may be able to use edible decorative ideas such as candy sprinkles, mini marshmallows, mini Kisses, and choco dips to make your baby shower lollipops extra special.
Cover your lollipops in clear plastic so your guests can admire them. Place a colorful ribbon around your lollipops to add a nice finishing touch.
Additional Resources