I consider myself quite the expert when it comes to throwing a baby shower. I have done showers for all my close friends and my sisters as well. I have thrown baby showers single-handedly and also had, on few occasions, let people to help me out.
I love the entire process of planning, shopping and especially making baby shower cakes (and sometimes cupcakes!). You see, I am quite the baker with the skills to prove it!
Surprise baby showers are the best. The look on the mom-to-be's face says it all. Their joy makes it worth all the efforts spent.
If you are looking for baby shower cake ideas, you have come to the right place. I have tons of ideas and secrets to share with you.
Whether you are looking for baby shower cakes for girls or boys, I hope this guide comes in handy for you.
I am assuming that you have already set the date and made all other arrangements for the shower. If not, go back and read my Great baby Shower Idea Guide.
In this guide, I'm only covering baby shower cakes which is an integral part of the event.
You will learn about making baby shower cakes as well as elegant and cute baby shower cupcakes. Cupcakes are fun, festive favorites for guests of all ages. They also make perfect individual treats.
Well, let's begin. For you, DIY cake bakers, here some important tips for making your baby shower cakes.
---
Top Tips for DIY Baby Shower Cakes
If you are making baby shower cakes yourself, here are some important tips to know:
Start by using your favorite cake recipe. Use a recipe that you have tried a zillion times before and have perfected. Now is not the time to experiment with new flavors, especially if you are planning a large party.
You can buy readymade boxed cake mixes as well. These will ease your work especially if you are doing all the other things like decor etc. If you are having tons of other food for the shower, plan to buy only those many cake mix boxes as needed. Know that most people will not eat a lot of cake if they are already full with other food.
I love using baby cupcake makers. They are oh so convenient and let you create several batches of cupcakes or muffins in succession.
If you're having a large celebration, you can order your cake. You can order baby shower cakes from professional bakers. Always use a cake specialist you have worked with before. If not, at least get a sample/tasting session before hiring one for the shower.
You can choose from a single large baby shower cake or go for cute cupcakes for a baby boy or girl. I love baby shower cupcakes. They allow greater flexibility with the flavors your choose. You can even let guests choose their favorite flavors or colors by providing a variety of them.
If you are having a themed event, it is best to also have the baby shower cakes decorated as per that theme. I have included many themed ideas below, so read on.
If the mom-to-be has a particular flavor, theme or color in mind, you can get the cake made-to-order.
If you don't know the the gender of the baby, you can make cakes with the neutral colors, inscriptions and messages. There are tips below to help you choose the right girl or boy baby shower cakes inscriptions.
Some baby shower hosts also like to give away individually wrapped cupcakes as baby shower favors in custom packaging. These look cute, elegant and are almost always appreciated by guests.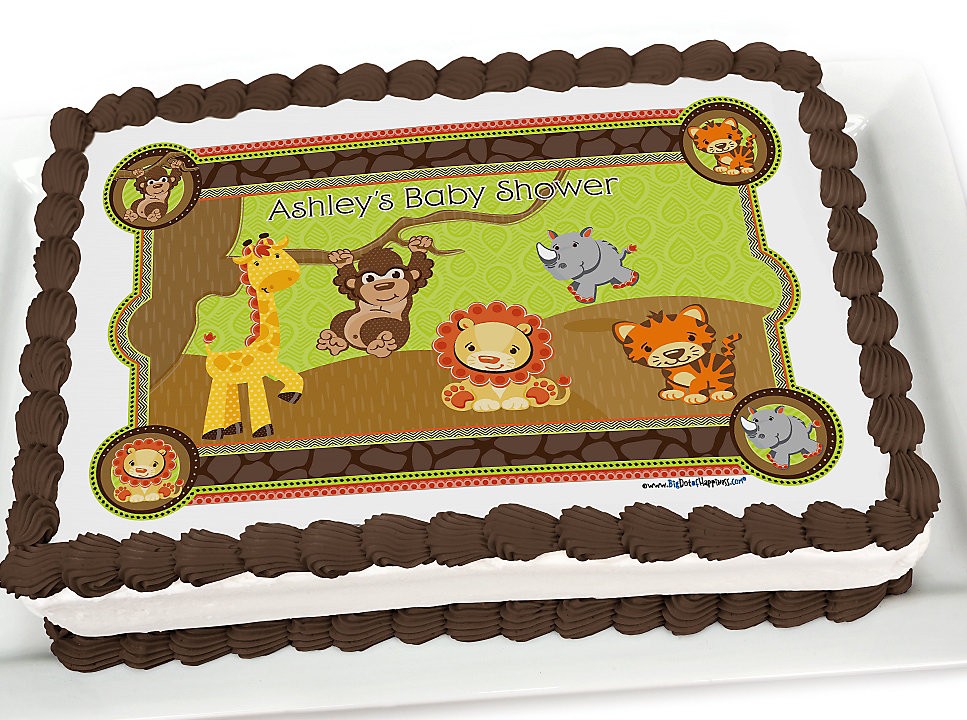 ---
Flavor and Decoration Trends
The following baby shower cake/cupcake ideas and trends are popular for this year.
Use Jam or fruit preserves. There are hundreds of flavors and colors, cream cheese and lemon curd you can use.
For a neutral-themed baby shower cake, I suggest going for a white frosted cake with swirls of melted chocolate drizzled on top. You can't go wrong with that now, can you?
Seasons play an important role in selecting the baby shower cake theme. Winter baby shower cakes could have a cute little snowman complete with a carrot nose, button eyes, and a warm scarf. Likewise, snowflake themed baby shower cake is a hit with the mums-to-be. A baby shower party held around Halloween can have a Jack O' Lantern face shaped cake.
You can have many baby shower cupcakes in a single color frosting. Arrange the cakes in the form of a tier arrangement and watch as guests ooh and aah over the display. Or use a rainbow platter and have cupcakes for the baby shower in every color. You can let the guests can even pick their favorite ones.
Fondant baby shower cakes are currently popular. Fondant gives you the flexibility to create elegant baby shower cakes. You can personalize custom fondant decorations based on the shower's theme. Baby shower fondant decorations come in a variety of colors and shapes. Popular shapes include: flowers, baby carriage or cribs, bibs, baby bottles, rubber duckies, baby rompers and onesies, tiny booties, and all other things that scream "baby".
Here's a special way to announce the gender of the baby. Start with a plain classic vanilla cake. Filled with either blue or pink cream cheese to "announce" the special news when they bite in. Such "reveal cakes" are hugely popular with moms-to-be.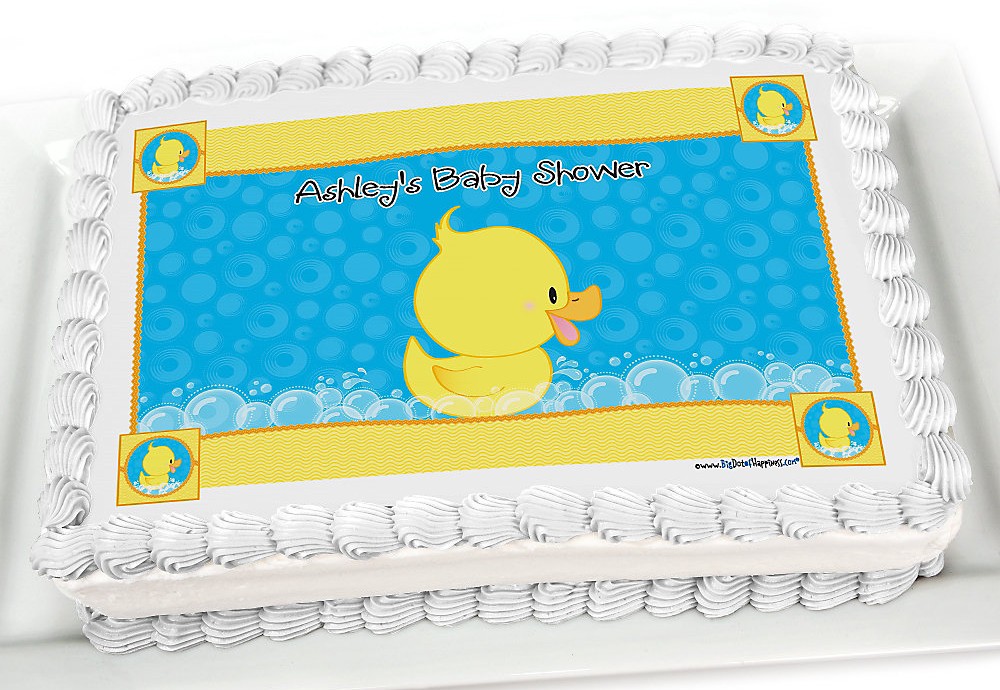 ---
Inscriptions and Wording
Baby shower cake inscriptions are easy to do yourself and you only need to choose the right one.
I have created a list of baby shower cake inscriptions below for both boy and girl baby shower cakes. I have also included some neutral inscriptions and unisex messages in case you do not know the gender or do not wish to reveal it.
In any case, try and keep the messages as simple as possible. Do note the amount of space actually present on the cake's surface. In case you wish to add a large poem on the cake, it is best to do so using a printed notice on the side of the cake.
Theme based baby shower cakes can also have an inscription based on that theme. I have discussed some ideas below for you to use. If all else fails, pull out a nursery rhyme book and add one of your favorite rhymes on the cake!
Here are some tips for writing your cake's inscription:
Let the cake or cupcakes cool down completely before you frost them.
Smooth the cake/s down.
Hold the icing bag at a 45 degree angle as you frost.
Lightly allow the tip of the icing bag to touch the cake's surface. Start writing the baby shower cake message with a steady hand. Squeeze the bag gently as you move forward.
Use gentle and steady pressure.
Each time you reach the end of the wording, stop pressing the bag.
I have found that using the whole arm instead of just the wrist helps create a steady and even writing on the cake. I also like to use my other hand for support.
Make sure you do this task while standing up and not sitting. This might not seem important, but it actually is in helping you perform with steady hand and gentle even pressure.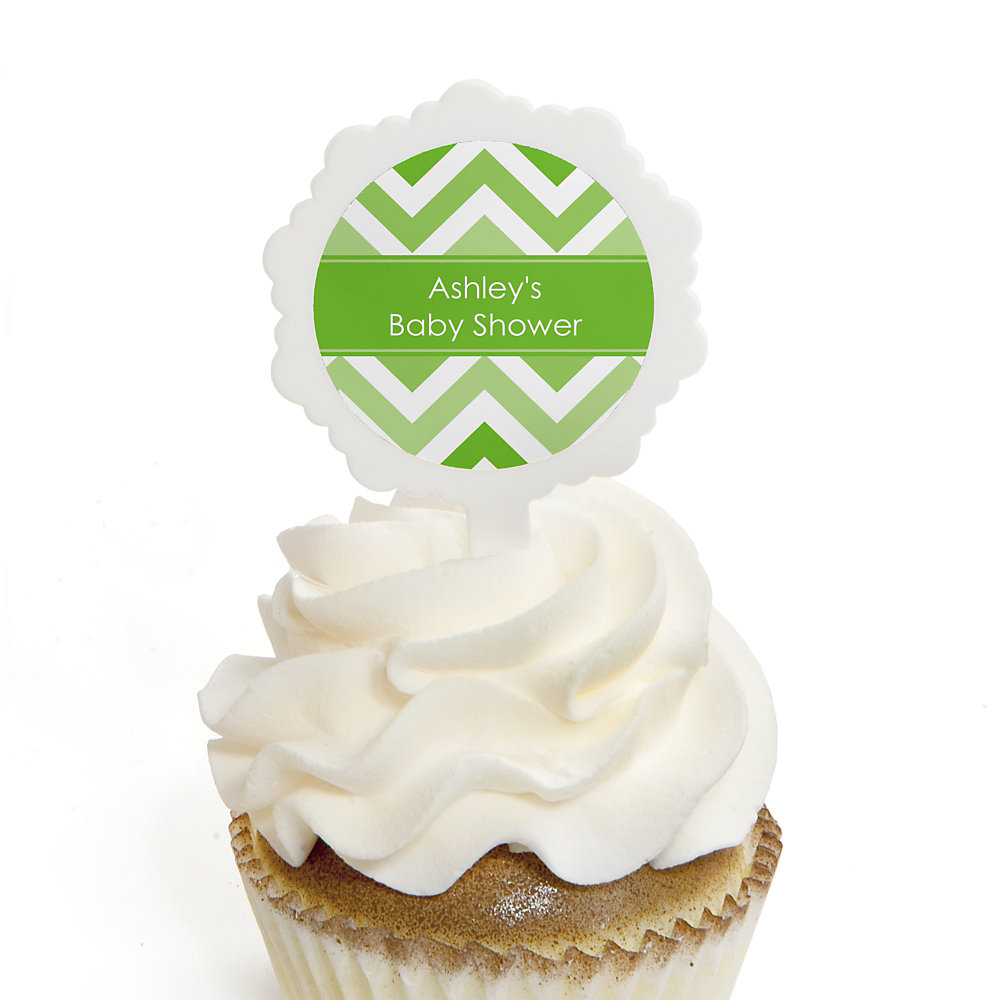 ---
Toppings
Cake decorating shops and craft stores sell many varieties of pre-made cake toppings for your baby shower cakes. Frosted baby shower cakes always do well with sprinkles. You can choose from these popular favorite candy toppings:
Crushed peppermint
Candy coated chocolates
Mini chocolate chips
Jelly beans
Candy corn
Conversation hearts
Chocolate stars
Simple dusting of decorating sugar
Toasted coconut
Toasted nuts.
Make sure that none of the guests have allergies to any of the ingredients in the baby shower cake's toppings.
---
Popular Themes
Your baby shower theme can decide the cake ideas for you.
Baby Ducky Themed Cake
The baby ducky theme is popular because it's neutral. So it's great for boys or girls. Your cakes and cupcakes can be in the shape of little yellow ducks. You can place glass bowls all around the venue, fill them with water, and float rubber duckies in them.
Jungle Themed Cake
A jungle themed cake can be plain green or white and brown. Add on some small animals like monkeys, lions, and elephants made with fondant.
Beach Baby Themed Cake
Seashells, starfish, and ships are some of the popular cake shapes for this theme. You can also have colorful rocks, sand, and gems surrounding the cake.
Garden Party Themed Cake
A garden themed cake can have small fondant flowers with green stems and leaves. Add in some real flowers around the cake.
Alphabet Themed Cake
You can make a single large baby shower cake with the letters A through Z written on it. Or make simple cupcakes with individual letters on them.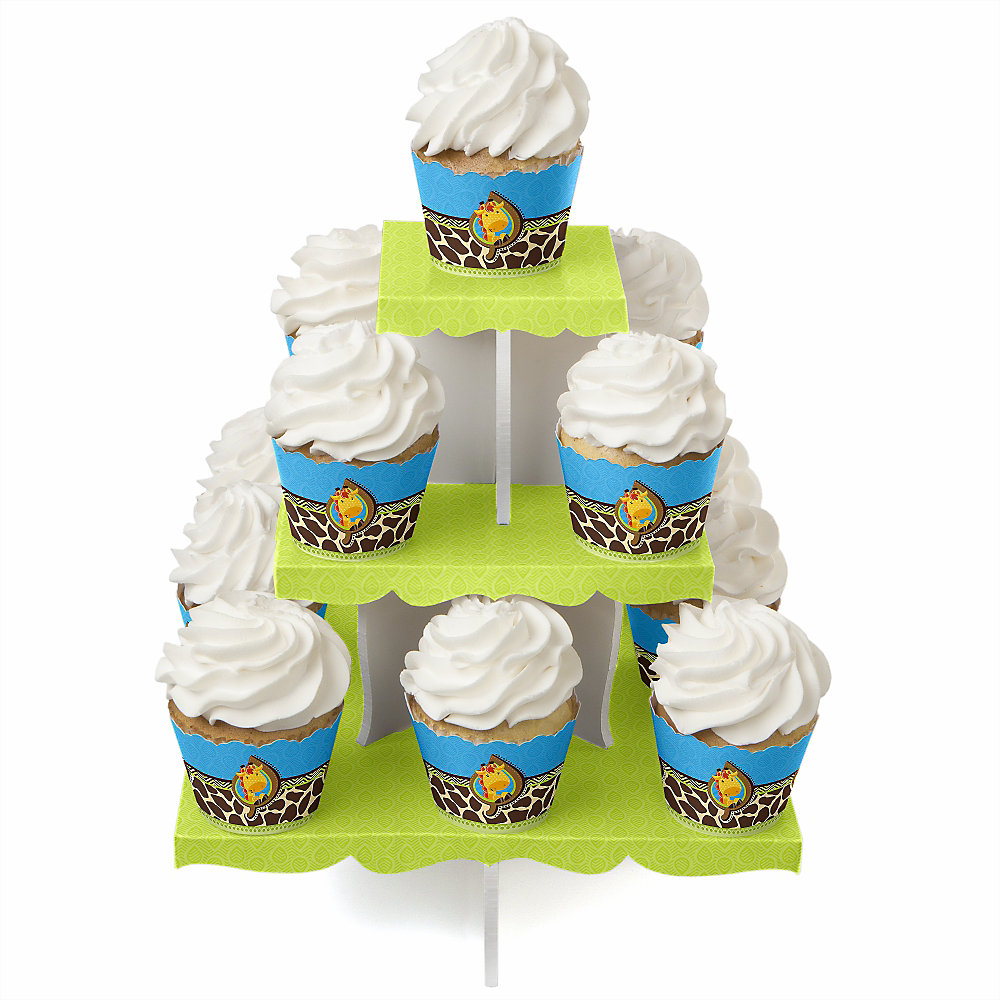 ---
Baby Shower Cake Ideas for Girls
Here are the top trending baby shower cake ideas for girls. These adorable ideas are sure to amaze the mom-to-be as well as your guests:
Pink and Brown Diaper Bag Cake
Make a diaper bag cake in pink and Brown. Then add a small milk bottle, baby bib and pink booties peeking out of its pockets. They can be real or made of fondant.
Girly Cupcakes
By now you know that I have a sweet spot for cupcakes when it comes to baby showers. For girl baby showers, I like using small pink-colored cupcakes with fondant decorations.  As with all things girly- add pink flowers or pastel colored booties. Or try a pink & white colored bib with a cute bow-tie.
Bow-Shaped Pink Colored Cake
A simple pink bow with tiny white polka dots and clean lines. You can scatter gems around the cake to add some pops of bright colors to the otherwise pastel theme.
Cherry Blossom Cake
It's a simple cake with pink frosting. Place tiny white cherry blossoms all over it. This cake is elegant and girly without being over-the-top.
Pastel Polka Dotted Cake
Nothing spells baby girl like pastel colors. So a cake design having a simple plain pink background, clean lines with tiny white polka dots. It's a classy and trendy cake.
A Cute Monkey cake
Monkey cakes are neutral and used for boy baby showers as well. For girls, keep the background pink and make tiny brown monkeys in fondant. Put the monkeys in funny poses. They can swing from trees or pretend to be throwing cake at each other. You are sure to get a round of applause from your guests.
---
Baby Shower Cake Ideas for Boys
Try these awesome boy baby shower cakes the next time you plan a shower for someone!
Simple Blue and White Cake
Add the wording "Welcome baby" to a plain blue cake. To add some cuteness, decorate the plain cake with a cute blue onesie.
Diaper Cake For a Baby Boy
A white and blue cake in the form of a diaper complete with a blue colored nappy pin. How cute is that?
White tiered cake with a blue baby carriage cake topping
Use this type of cake to reveal the gender of the baby.
Assorted Baby Shower Cupcakes 
Make pastel color cupcake with blue decorations. Add decorations like blue colored shoes, blue colored baby carriage, and tiny blue flowers.
Baby Footprints
Add small baby footprints on the cake. Make them either pink or blue to announce the arrival of the baby girl or boy.
Named Cake
This only works if they already decided on the baby's name. Make a blue colored cake with the wording "Welcome baby [name]".
---
Wording for your Baby Shower Cake
Baby shower inscriptions are great for cakes, favors, invitations and other shower stationery.
The right inscription, poem or message can stir up emotions and memories. They can even cause tears or smiles.
Write your baby shower cake poems and messages from the heart. You need not be a poet or a writer to think them up. Simple poems, inscriptions and messages work the best. A little thought and effort is all it takes to write the best baby shower cake wordings.
Here are some tips for choosing baby shower cake wording and inscriptions:
The words can be funny, serious or heartfelt. You can even choose from boy baby shower cakes or girl baby shower cakes wording discussed below.
If you decide to write your own poem or message, keep a goal in mind. Are you writing a message for the mom-to-be or the to-be-parents or for the guests?
What is the focus of your baby shower cake wordings? Is there a theme involved?
What message do you want delivered?
Once you have sorted through these ideas, organize a few pointers on a piece of paper.
For baby shower cake poetry, consider limericks, nursery rhymes or free verses.
Your creativity will blossom once you brainstorm some baby shower cupcake or cake wordings. I recommend that you write down everything that comes to mind. You can then choose to edit the inscription later.
---
Wording for Boys
If you know the name of the baby boy then a simple "Welcome baby—–(name)" will do!
It's a boy! This is another popular boy baby shower cake message.
Welcome Prince Charming! -another ideal message for boy baby shower cakes.
Some funny cute and rhyming messages also work well. Tiny froggies and teddy bear toys, Oh! Thank heaven for boys!"
Poetic phrases like "She is expecting a bundle of joy and guess what? It's a baby boy!"
For themed baby shower cakes for boys, Ships Ahoy! It's a baby boy!
For non-rhyming messages, "Snips, snails, puppy dog tails, that's what lil' boys are made of!".
Mommy's Little Boy.
….(baby's name) is coming, he's almost here, a special moment, a boy so dear!
---
Wording for Girls
Rhymes like: "Pretty bows and shining curls, thank heavens for baby girls"
Simple Pretty in Pink, if the baby shower cake is small and does not have much room to accommodate larger messages.
"It's a girl!" –plain and simple and straight to the point.
"Welcome little Princess"
If you know the name: "Welcome to baby……(name)"
For non-rhyming messages: Sugar and spice everything nice, that's what little girls are made of!
Daddy's Little Girl!
Thank heaven for little girls!
….(baby's name) is coming, she's almost here, a special moment, a girl so dear!
Purple ribbons and pink bows, tiny fingers and tiny toes.
---
Wording for Neutral or Unisex
"A girl or a boy-a baby is a bundle of joy!"
"A gift from above!"
"A baby is blooming"
Congratulations to the mom-to-be!
Bundle of joy Bundle of Love
"You are about to have a cute baby!"
"Someone special and someone sweet
"For the mum to be and her little sweet pea!"
"Look out world, here I come"
A star to be born!
Labor of love
"Booties, bottles, diapers, pins, watch out now as the fun begins!
Tiny hands and tiny feet, this little angel is oh-so-sweet!
"Here comes baby!"
"Little fingers, little toes, everyday our love for you grows!"
"Sugar and spice-a baby is everything nice!"
"Sweet as sugar, cute as pie-this little baby is our apple of the eye!"
Wording for baby shower cakes can be centered around the theme of the shower, such as Welcome to the jungle!
"Showers of happiness"
"Congratulations (mom's name) & (dad's name)
Someone special, someone dear, baby (name) is almost here!
For Winnie the Pooh and Piglet themed baby shower cake, Winnie the Pooh and Piglet too-you are having a baby –congrats to you!
Twinkle twinkle, little star!
Sweet Pea!
Celebrate!
Cute As A Button
Little Angel
Future ……(Fill in a profession)
Lucky Ducky
Blessed Child
50% Mom, 50% Dad-100% Loved!
Our/Your Family is growing by Two Feet
All Because 2 People Love Each Other
God's most precious gift
Bun in the oven!
Stork delivery for (mom's name & dad's name)
---
Wording for Twins
Diapers, pins, onesies and booties, she's expecting two little cuties!
Plain and direct: They are expecting two bundles of joy-One is girl and one is a boy!
Double Trouble
They are having two… not just one!
Double the pleasure, double the fun!
So that's that! I hope all these baby shower cake and cupcakes ideas help you create the perfect dessert to impress your guests! Time to get started.
If you make a cake with any of these ideas, please let me know and send in a photo so I can post it on the site.