Are you looking for ideas for cute baby boy showers? If you are, then here are some inspiring ideas that you can try out.
It is a wonderful time to celebrate. I want you to amaze your guests and wow your family by going all out with the ideas below.
Invitations
The first thing that you should plan is guest list and the invitations.
It's a boy and so the colors or theme need to be blue or have cute blue-colored prints.
Choose envelopes of the same color to match. And even if it is painstaking to do, make your own invitations. Your guests will love a handmade invitation compared to a store-bought one.
So treat your guests to a creative invite made with your own hands!
---
Venue
Aside from the cake, you should have your baby boy showers should in a proper venue. The venue should give you have the freedom to decorate it to match the theme.
There should be plenty of blue balloons of different hues. But keep the colors in sync with the cake colors. You may also use blue and white ribbons, blue onesies and anything else blue.
---
Cake
There are so many great cake ideas to choose from.
Since we are planning a baby boy party then the cake should definitely have a blue motif. If you're feeling fancy, make your cake with several layers of blue cake and blue icing.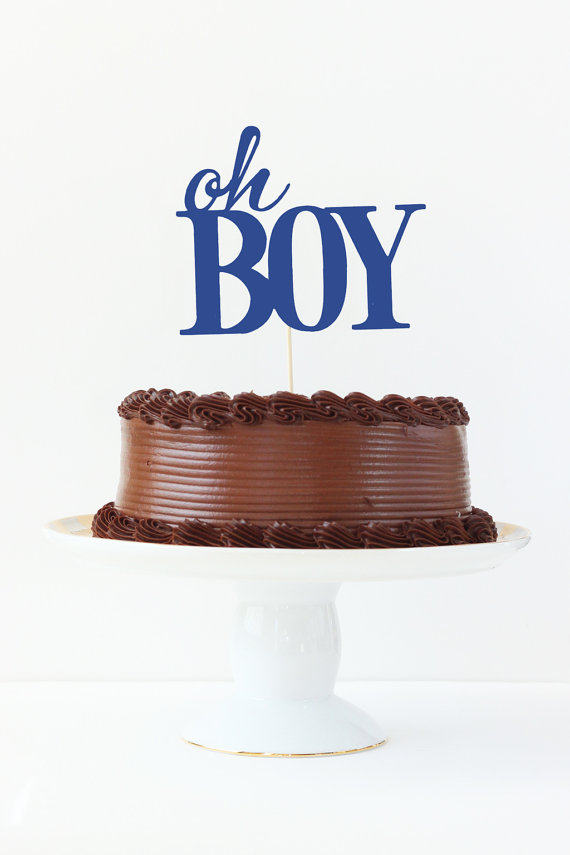 Boy-themed cakes can have cute decorations like cars, balls, sugar balloons, and bears. Even blue cartoonish angels sitting on each tier.
The mom-to-be should have a say on what particular shade of blue will be the best to use. But if she is still overwhelmed with the fact she is having a baby, then let the dad take over and decide!
And if you would like to give your guests a piece of your baby shower cake, why not a cake made of lots of small cupcakes? Of course, each cupcake should have blue frosted icing on top!
---
Favors
Favors or party souvenirs are often overlooked but are one of the most important things in a baby shower.
Favors are what your guest will take home to remind them of the day, so having a memorable one is a must.
Some ideas for perfect favors are:
Cupcakes in a clear plastic container
Baby boy figurines
Baby bottles filled with blue, silver and white candy
Blue lollipops
You can also give handmade thank you cards.
---
Popular Theme Ideas
There are so many more baby boy showers ideas. Check out these super fun concepts for baby body shower themes. These are the ideas are top themes for baby showers. Spoiler alert, they are all animal baby shower themes.
The Trendy Owl Baby Shower Theme
So you need a baby owl theme for your baby shower? It is one of the best themes to choose because an owl is endearing and cute.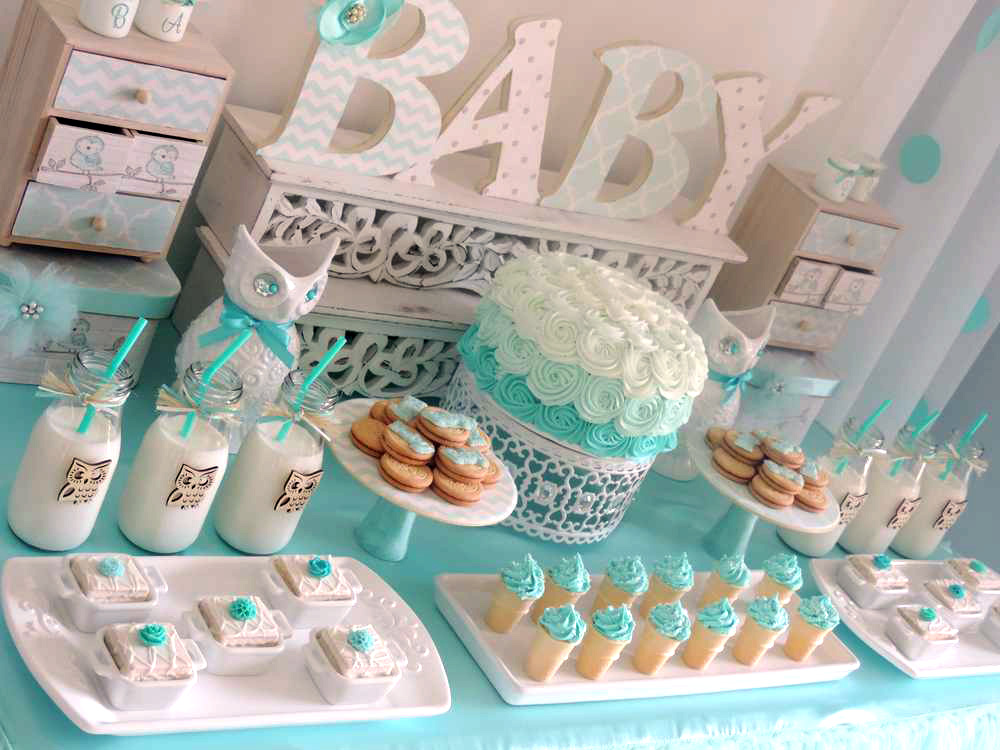 A baby owl is just as adorable as a real human baby!
The woolly plumes on baby owls makes them look super cute. You just want to squeeze them to pieces.
Owl Invitations
For baby owl invitations, you might choose either a blue boy owl with blue hued quills. Some have extra design elements like, baseballs or cars.
Add some humor to customize your baby owl invitations by including an owl-inspired message. Like, "Look whoooo is having a baby!"
An Easy Owl Cake
Your owl cake will help to make your baby shower an amazing success.
It's easy to make an Owl-Shaped Cake.
An owl's head is round and easy to make from a round cake.
Then make a small square cake and cut it two diagonal pieces. This will give you two pointed segments for the ears.
Add icing to make the owl features, quills, nose and eyes.
Use the design of your owl cake to inspire all the other decorations for the venue. Including the banner, tablecloth, napkins, tableware, etc.
But an owl is not the only cute animal that would make a perfect baby shower mascot.
Additional Resources:
Baby Bee Shower Theme
The Baby Bee Shower Theme is great for gender neutral baby showers.
The mom and dad will often pick the color yellow for the baby shower when they don't know the gender of their new baby. Or perhaps they just want to keep it a secret.
And, if you're going to pick yellow, what better theme to choose than honey bees!
Honey bees work hard like a mom. They appreciate flowers like a mom. And they are in charge of making sweet treats like a mom!
Decorating the Venue
Fill the venue with flowers. They can be paper ones. You can make bees out of different materials such as pipe-cleaners or pompoms. You can use a bee or honeycomb motif on the tablecloth, napkins and tableware too!
Cake or Cupcakes
As for the baby shower cake, make a moist honey-flavored cake. Two or three layers with bright yellow and dark black icing. Decorate it with cute bumblebee trimmings and toppers.
Or, you can also make little cupcakes and organize them in the shape of a like honeycomb.
There are 2 bonuses with cupcakes. They are easy to serve to your visitors. You can give these as your honey bee baby shower keepsakes as your guests leave.
Favors
Giving away cupcakes as your party favors may be enough. But you could also give out small jars of a honey or beeswax candles with custom labels printed on them.
Additional Resources:
Cute Turtle Baby Shower Theme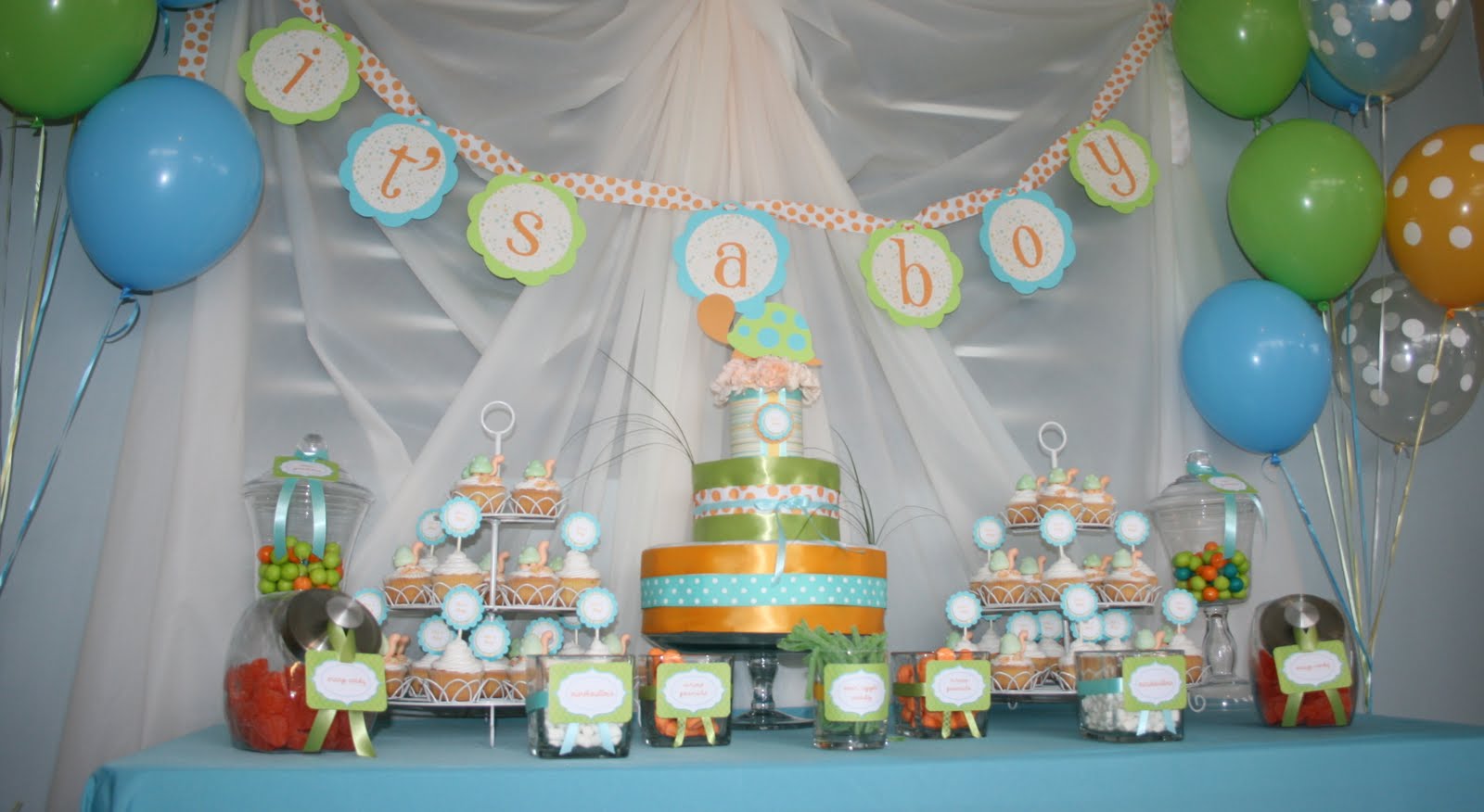 What could be more charming than turtle babies as the mascots for your baby shower? Turtle-themed baby showers are a charming and fun approach to celebrating a new baby.
You can buy or make adorable green turtle invitations, decorations, and thank you notes.
Wow your visitors in amazement when you present them with a custom turtle cake. Decorate it in all the shades of green. Use smooth fondant to make a charming baby turtle doll. Or perhaps use a plastic cake topper in the shape of a turtle outline. Include cake topper adornments such as baby bottles, pacifiers, baby dresses, onesies, booties and strollers.
Bring your turtle baby shower to a finish by giving your guests a parting turtle themed souvenir. These could be, for example, magnets, dolls, or green and white mints.
Additional Resources:
Black and White Panda Baby Shower Theme
How about a panda-themed baby shower? Use your creativity to design panda-themed invitations and envelopes?
Make your own panda decor by hand if you have time to spend on a "crafter-noon".
Panda Invitations
Create a mixture of high contrast black-and-white panda designs for your envelope. Or you can just use a panda figure as a the picture for your invitation.
Leave the center of your invitation blank.  This is where you will put all the details about your event – when, where, who. Perhaps write a short message your visitors to welcome them to your occasion.
A Panda Cake
A panda baby shower cake will be high contrast – black and white. Decorate it with white fondant with licorice decorations. Add a dash of green bamboo shoots as a cake topper.
For your cake topper, add a charming baby panda bear. Then sprinkle the base layer of your cake with baby adornments made of sugar. Like baby booties, baby caps, onesies, gloves, diapers and baby bottles.
The Venue
Your venue decorations should also follow the panda–inspired theme. Hang up plenty of panda pictures and small panda soft toys along the walls. To tie the room together, your party decorations should feature panda imagery. Or at least be in black-and-white. Your table materials, seat spreads, buffet table fabrics and table centerpieces should all match.
Additional Resources:
---
So, an owl baby shower theme is not the only animal motif suitable for a boy baby showers. I'm sure you'll find one that is a perfect fit for you and your new little one. Be sure to plan ahead so you will have plenty of time to prepare and make everything perfect!